This post imbues the importance of innovation with color in data visualization, offers a variety of resources and reference materials, and encourages personal innovation with color as absolutely vital to moving your visual communication of data forward in Tableau.
Emotion and Behavior
The effective use of color is fundamental to the visual communication of data.
As our eyes take in color, they communicate with the hypothalamus, which in turn signals the pituitary gland. Then, on to the endocrine system, the thyroid gland signals the release of hormones. Those hormones influence BEHAVIORS and EMOTIONS. Color is so powerful, in fact, that the effective use of color can improve learning by 75% and increase comprehension by up to 73%. 1
Yet, in today's conversation about color, much ado is still invested in the basics: to stop using red yellow green, for example.
Important as these basics are, now is the time to move our conversation beyond the entry level. Now is the time to dramatically expand our thinking around color.
With behavior change, comprehension, and augmented decisioning as the purpose of data visualization, and Tableau as our tool of choice in the field, then we as visualization authors must become more sophisticated in our use of color in Tableau.
To illustrate the point, as a metaphor, here I've marked up the original visualization of The Explosion of Crayon Colors Since 1903.
If you use only the default color palettes in Tableau, then you are missing one the greatest of opportunities to leverage the power of visualization and affect the behavior and comprehension of your data consumers.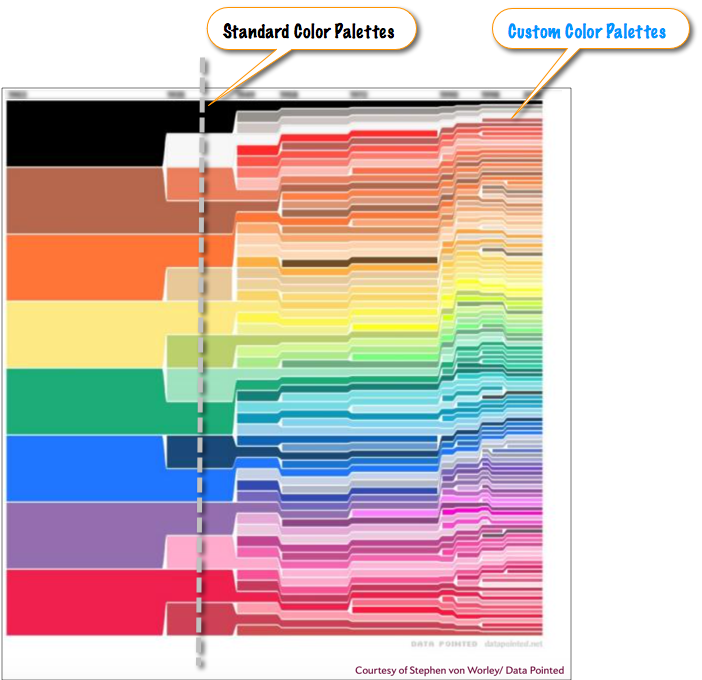 Innovation in Tableau around the use of color is personal. At the authorship level.
Getting Started
For starters on the psychology of color, Ryan Sleeper provides a brief and excellent overview in his post on Tableau Public:
This is the second post in a series of guest blog entries by Tableau Public authors for
Myself, I was first moved to think more deeply about color by Andy Kirk's 2014 talk, Thinking about Data Visualization Thinking.
In the bit about color, Andy used the slide below to describe his process for choosing a palette for psychotherapy data at the University of Alaska. The client thought a lot of influence on the treatment score was caused by the arctic environment (light/dark) so he did some searching for inspirational color palettes around the 'arctic' theme.
To appropriately affect behavior, decision, and emotion: our choices around color must be tailored to content, context and audience of our data.
In other words: as authors, we must "author".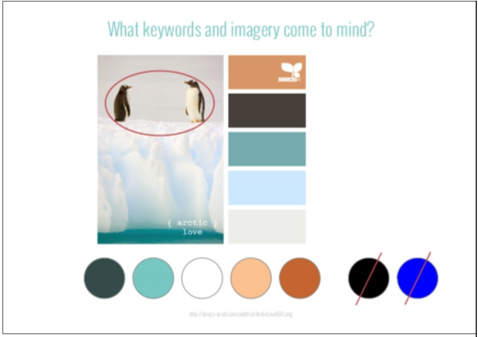 We must deviate from universal palettes.
Community Innovation
New features such as coloring labels with mark colors are frequently added into the product. And other tools exist, such as the free web tool from InterWorks, to enable quick and easy custom palette creation for Tableau.
Andy Cotgreave richly explored the topic of choosing the right colours for your visualizations during Tableau design month. That was post 2 of 11 in a lengthy series on design, all of which is very nicely summarized in the grand finale:
Over the past month, I've deconstructed a dashboard I made for Tableau's internal VizWhiz competition. Below is an attempt to quantify the Impact and Difficulty of each of the design choices I made.
Zen Master Robert Rouse then very nicely describes the mechanics of customizing Sequential and Diverging Color Palettes in Tableau.
And it is this, ability to customize your own color palettes, where I will continue to dive more deeply from here. Because personal innovation with color is so easily accomplished using features and tools already available!
Custom Palettes
Taking Andy Cotgreave's design month as inspiration, Kris Erickson has contributed several new palettes, each built on the principal of muting some values while emphasizing others.
Those new palettes from Kris are found in his workbook on Tableau Public. And while a link to his post with the .tps file appears to be momentarily broken, I happen to have a copy. So Kris, I hope you won't mind that I've printed it here to a PDF file.
If you haven't used them, James Davenport's "Cubehelix" color palettes are most delightful. "Cubehelix" is a programmatically generated color scheme, one that always de-saturates down to black and white.
This makes it not only a great option for those who are color blind, but also an excellent choice for charts that may be printed without color.
Moreover, they are simply beautiful. A detailed description, and a link the .tps file are both found here:
Earlier this week, Ryan sleeper wrote a very informative post about improving the design of your data visualizations with your color choices. He touched on how straying from the built-in Tableau color palettes can give your dashboards a more custom feel, solidify the theme, and effect the appeal of the dashboard to your audience.
Personal Innovation
So, yes! Much has been written, much has been done!
Yet, a huge opportunity remains untapped. And this is especially true in the space of personal innovation, with our own use of color as individual Tableau authors.
Every single day. Your personal innovations can be simple, such as Ben Jones' Sunset Color Palettes.
Or they can be more complex and "hackier", like my curious discovery of a novel way to highlight duplicate records by assigning a distinct color palette to a continuous measure pill, or Jeffrey Shaffer & Russell Christopher's exploration of undocumented namespaces in the Preferences.tps file.
Regardless of the complexity, I hope this post will encourage you to make personal explorations and innovations with color, and to "author" away from the default palettes in Tableau.
Reference Guide
As we conclude, should one reference be the only link needed to get your creative juices flowing around color, then look no further than the color section of Jeffrey Shaffer's Tableau Reference Guide. It is a wonderful resource.
Perfection is a Process
Remember that small decisions make a big difference. Far more than reaching perfection, the most important part of personal color innovation is to simply get started with exploring.
Please watch this space for my next installment, where I will share a few of my recent personal innovations with custom color palettes in Tableau, their uses, and how they came to be.
This is part of a series of posts about the 'little of visualisation design', respecting the small decisions that make a big difference towards the good and bad of this discipline. In each post I'm going to focus on just one small matter - a singular good or bad design choice - as demonstrated by a sample project.
Word Count: 939
References